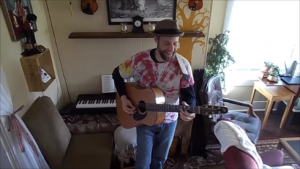 When three trees coffeehouse was still open, in about 2010, I started an experimental album called, "Jimmy Rig" based on a dream I had about the future.  I don't know if it was prophetic but in the dream musicians worked in music factories where music was recorded live, houses were dilapidated and poor musicians had special medical insurance and clinics they went to.  Jimmy Rig was an African American man in the dream who just got out of jail, had been a famous musician in his time and now shared his music again.  He started to play in one of the factories and this guitar part at the beginning of "Shining Billy" is what he played.  I woke up and wrote the song, as well as many songs like it.
"Shining Billy" is about a drug dealer who turns his life around, and wants to be famous, but no one knows his name.  Yet he shines because he got off drugs and is living a good life instead.
The lyrics are impressionistic, not exact:
"Billy looks grim, his face in a shim, he doesn't know who to tell
But in a day or so, there won't be grass to mow; then his dance won't sell at all.
All the world doesn't know, why poor Billy's head hangs so low…"
And then as with other Jimmy Rigs, the lyrics are inspired by an old folk song or a mother goose rhyme:
"Oh where have you been Billy boy, Billy boy, oh where have you been shining Billy?
You've been sitting in the sky, with an eagle in your eye, waiting for the world to sigh, shining Billy!…"
Enjoy more on our media page: www.envisionmission.org/media and follow the instructions to download a CD