Riding on the Wings of Love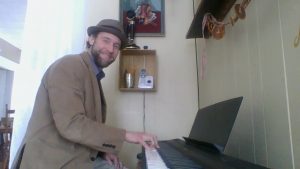 Cary, Mississippi and Lynden, Washington are very different places, but when I was in high school, somehow I knew God was going to call me to go to Mississippi in my wood paneled station wagon. So I wrote a song about the idea of riding on the wings of God's love, as if I was already on the road and singing it for my girlfriend at the time, Rochelle Van Ry.
Well, it came true and I remember singing it when I got to Mississippi. It was exactly how I felt when the dream became a reality. The song has made more sense to me now than it did then as people gather with us in Jesus' Name and we continue to ride on the wings of his love.
Here's a sample from the song:
Let me sing to you a song that I've sung while I'm riding on the wings of love
It's a song that I love to sing when I'm coming back home my love
In the desert or in the rain, even while I'm on the road
I'll be singing to you all of my days, singing to you while I'm all alone
And I'm riding, riding on the wings, oh I'm riding on the wings of love…
And a child cries in the night, and we really don't know why
A young girl takes out a knife, oh it's going to make me cry
So I'm singing trying to give all the happiness I have found
Innocent children cling to it and they're gathering all around
…I'm riding on the wings of love
Listen to the whole song and the whole album on this website by following the instructions given on the media page": www.envisionmission.org/media