Pray – from "Riding on the Wings"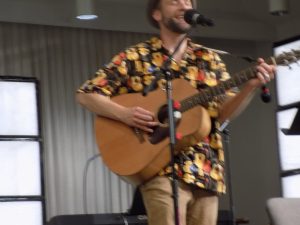 Pray – When I was 15 a deep depression hit me hard.  I could hardly play music anymore, but one night I picked up my guitar and a song came in about 20 minutes that hasn't changed since I wrote it.  It helped me out of my depression and it was a prayer of its own.  It has also been sung to many over the years, even to homeless friends right on the street, to help them out of their depression too.  It's from the first album I ever did: "Riding on the Wings".  Here are the lyrics:
When you're searching for the truth, but you just don't know
Where to find a way to soothe your dying soul
When you're walking down the street on a lonely night
And you feel a fear way beneath, creeping inside
I will teach you how to pray, yes, God will show you the way
He will never let you stray, and you will never fall away
So when you're feeling down and cannot stand on your own
When you're losing ground, fold your hands and pray to the Lord
And yes, he will take away (some) pain, when you pray in Jesus' Name
When your tears fall down like rain, you know His love will never change
So when you're losing hope and tired times walk your way
When you just don't know, close your eyes and pray
And yes, He will show you the light, with the wisdom of a child
When there's teardrops in your eyes, you know for those tears He died
When there's nothing more to say, just close your eyes and pray
You can download the "Riding on the Wings" CD on our media page:
http://www.envisionmission.org/media
Just follow the instructions on the website.
I hope it gives you peace just as it did for me.