Lessons from India Part 2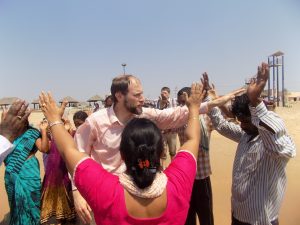 Do you believe there is more to the universe than what we see with our eyes; that there is a spiritual world too?  "More than meets the eye"!  One of my kids was just watching episodes from the 1980's cartoon "Transformers" and that is one of the main lines in the theme song. (More than meets the eye)  It got me thinking, and then I thought about India: they believe that there is more to the universe than what we see with our eyes.
In fact, the strategy that Christians have for sharing Christ with people there is that they pray for the sick to be healed, and they are healed in Jesus' name.  They even cast out demons from people and the people are set free, just like Jesus did in the Bible.  They also experience dreams and visions of Jesus and then people are open to hearing about who He is and His love for them, and they trust in Him, even in Him alone.
I believe there is a battle between light and darkness in the universe and that Christ is the light.  We too have seen folks set free from demons and have seen miraculous healings, but the greatest evidence for God is the effect He has on people.  It has been said that we cannot see the wind, but we can see its effects.  So it is with God.  Though we cannot see Him, we do see Him in those who believe in Him, when they love sacrificially and that is the greatest evidence for God and Christ Jesus.
I have learned from India, that these are also our greatest evidences  in America.  No amount of arguing will help, but lives lived in real love (and some miracles that flow from that love) are our greatest allies in the battle.  It is the Holy Spirit of God that convinces people of the Truth.  We don't have to try to convince them, but we can share what God has done for us in Christ.