Lessons from India Part 1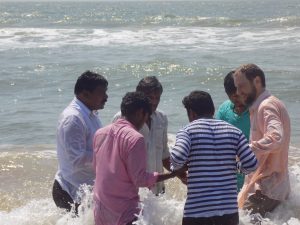 Someone asked me recently, "What is the most important thing you took back with you from India?" Well, it is a beautiful culture and there's a lot of things I could point to, but from the Christians there I learned about a life of prayer. Because of their continual need for God's intervention, many of them have learned to live in dependence on the LORD by praying all the time. What do I mean? We rented a vehicle for the family we stayed with in Ongole, the Kattevarapu family. When we got into the van together, the father prayed for our journey and gave thanks to God. While we were driving, especially because traffic in India is very different than the United States with lots of horn-honking, close calls, swerving around each other and cattle ambling through the streets, the mother of the family would pray, "Lord Jesus!" frequently while we traveled. When we got to our destination, the father would again pray, thanking God for allowing us to arrive safely and praying for our ministry time to follow.
That's just a glimpse of how their life of prayer functions. Do we in the US pray each time before we depart in our vehicles, pray throughout the journey and then thank God when we arrive?
Normally the family rents automatic rickshaws in order to get to their destinations. They minister to folks in the nearby villages miles and miles from their own home. Sometimes they take the bus, which is not reliable. They've been stuck in the villages more than once before. They bring rice to the untouchables and low caste folks not because they're trying to bribe them into being Christians, but because the people there need the rice desperately in order to make it. The bread-winners of the families work in the hot salt fields all day for $3/day.
But it's difficult to bring rice bags with their current mode of transportation. That's why when we came and paid for a rental vehicle for them, with air conditioning in the the very hot weather, they were very grateful.
That dear family needs a ministry van to do their ministry most effectively. Could we who are their brothers and sisters in the West, give financially toward that need? If you're interested in helping please donate to Envision Mission: 710 E. Sunset Dr. Bellingham, WA 98225 and put "India" in the memo line of your check. If you donate online, please e-mail us or let us know in some way that you want it to go toward the ministry van fund for "India". www.envisionmission.org/donate
We'd like to at least get them a quality used vehicle. Used vehicles in India are difficult to find in good shape though because the roads can be so hard on such vehicles. So if we raise enough funds we can get a newer vehicle for them, or even brand new, and that will last for a long time for their ministry.
Pray for them also, if you're a believer in Christ reading this, especially for their strength in continuing this important ministry. It's called, "House of the Lord Ministries".