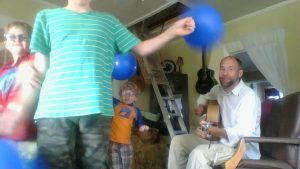 It's so important for Dads to play with and spend time with their children on a regular basis.  We need to stop being so busy and make sure we take time, even if just to read a short book when we get home from work or whatever it takes to spend time together.  These years when our kids are smaller go so fast and we don't get them back.  May God help us to cherish every moment we have with our families and friends.
This song is written with that purpose in mind.  Often my kids and I would check out the rental tractors at Hardware Sales in Bellingham here and then we would buy something and get some balloons from them for free.  Then we'd take them home, blow them up and have all kinds of fun just running around the house with them or trying to keep them from hitting the ground.
So goes the song:
Having fun with my sons, playing til the day is done
Rolling and a laughing and a smiling until the living room becomes
A hurricane disaster site, Mamma's got a frown tonight
Better pick up our toys sons, I got to teach you to do what's right
We're playing with the big balloons, playing with a big balloon…
Keep a handle on your hey de hey, a lid on your ho de ho
Keep your chin up and keep on smiling if it's not going where you want to go…
This song is on the "Jimmy Rig" album which is available on this website on the www.envisionmission.org/media page if you follow the instructions for download for a small donation of any amount.  Hope you enjoy- shalom!