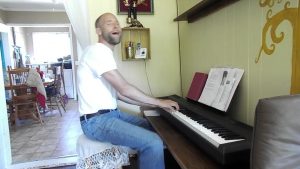 The motivation for everything for me is because I'm loved by God, I do what I do.  This song: Because I'm Loved says it all:
There's a song in my heart of peace and joy that i can't explain
It seems to come from somewhere beyond this world you might say
I was feeling down, suddenly it came and now it remains
I think it comes from love that loves and keeps on giving it away
Yes, I love, because I am loved…
It isn't that we need to love ourselves more; we're actually obsessed with ourselves most of the time.  It's that we need to know we're loved by Someone who can love us with an everlasting love.  Then we can deal with anything, because that's what we were made for and to love Him back and others too!
Soon we'll have this song on our newest CD "Celebration" on the website on the media page.