"Awake!" from the song Wake Up oh Sleeper
Wake Up Oh Sleeper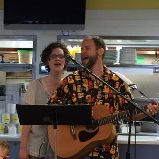 As part of the One Voice Project in Whatcom County we are recording a new song: https://www.indiegogo.com/projects/one-voice-worship-project-music-art#/
What a beautiful expression of the unity of the Church this album has already proved to be. There are 11 other musicians doing songs for it and we are so excited to be a part of it.
This particular song "Wake Up Oh Sleeper" is taken from Ephesians 5:14 as well as Psalm 57:7, Isaiah 51: 9 and 17; as well as 52:1. I tried to find all the verses I could about waking up because I believe we need to wake up as a church and we will find the LORD awake to us! We so easily go to sleep in ourselves, but we need to sing to our souls and wake them up even as we cry out to the LORD to awaken us.
Here are some of the lyrics:
"Wake up oh sleeper, rise from the dead and Christ will shine on you, He will shine on you…
Awake my soul, awake melody and song; awake my soul, I will awaken the dawn…
Awake, awake oh arm of the Lord, clothed in strength as in the days of old; awake oh Zion and sing of His love.
Rise up Jerusalem and sing…"
I've had to sing this song to my soul recently and I hope as people hear it they will also be awakened to the glory and love of Jesus! It means we come out of hiding and into our true destiny in Christ. We rid ourselves of sin and go into the freedom He has for us! 
There will be a concert and a CD available with paintings and various artists contributing so find out the details on the link at the top of the page.