Sweetly Surrender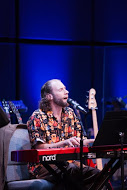 Here is a picture from one of our recent concerts – Mitchell at piano
This song asks some important questions, brings out fears, assurances and finally settles in sweet surrender.  I've always hated the idea of death, but then I'm not sure we were meant to love it.  I find myself struggling with many things, but God always reassures my heart that it's going to be okay.  I know He is trustworthy.
Here are the lyrics:
Oh yes, I'm going back to my only friend; I'll give up all I have, all I have to Him
Yes, I feel it in my soul and I cannot let go of this feeling that I have, that I have, oh for You
No I did it wrong again, got my hands on the wheel; I've got to give it up, up control over me
Jesus, help me find the way from the nighttime to the day, thank You for the light to see your grace and your face
Your love so tender, I sweetly surrender.  No more pretending, just sweet…
Sometimes I get so tired, that I cannot see the light.  Why do people have to die, I wonder why?
But you always come to me and tell me that my will is free, and when I do not understand you'll always be
Right there by my side, whispering words of life.  When I cannot always hear, always hear, not all the time
When the rain is pouring down and I cannot hear the sound, I will trust you even then, even then oh my Friend
Your love so tender…
To access the CD go to http://www.envisionmssion.org/media and follow the instructions.  If you donate even a $1 you can get a code and access the CD or book of your choice.