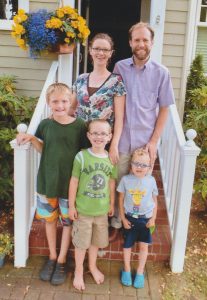 Mitchell Senti (with his wife Rochelle) is an Elder with gifts of evangelism and pastoral care for Envision Mission. They have three boys, Johnathon, Elisha, and Peter and they call Bellingham, WA their home. Bernie Brower (with his wife Mary) is also an Elder with Envision and Linda Hammingh a Deaconess.
Some years ago Mitchell and Rochelle had a vision to facilitate authentic community in the Spirit of Christ Jesus, right in the midst of a busy lonely American culture. Their first venture was a non-profit coffeehouse called Three Trees Coffeehouse. After six years they closed the coffeehouse and relocated events to Wood's Coffee on Prospect and Bay St as well as the Majestic on 1027 North Forest St. in Bellingham, WA.
During the six years that Three Trees Coffeehouse was open, God drew a core group of Christians together that served in that setting. He also formed a larger community of faith there and the core group tried to connect people to local churches in Whatcom County, but to no avail. Therefore Envision started a church plant called the Jesus Gathering for the purpose of discipleship of new and disconnected believers from the coffeehouse.
Rochelle had a vision for using the Senti home as a place for ladies' discipleship, which turned into the Ladies Homestead ministry. Then it became a ladies' meeting at Woods coffee and a place for women to teach other women to be women of God. Yeah, no guys allowed!  Now that group meets once or twice a month for events like movies, seeing the tulips in Mt. Vernon or just eating together.  All of this is to foster authentic community in Christ.
Envision also has a Bible Study called the Jesus Study on Sunday nights at the Majestic on Maple and North Forest St., which is a place for further discipleship. We hope to start more of these around downtown Bellingham.  Envision used to host a Jesus Study at Lincoln Square apartment complex on Wednesday afternoons.  Now it has become a house church also.
Yet the house churches are now in partnership with Envision as discipleship groups where  5-12 people interact with the written Word of God, worship in song and pray for one another. That's where they really try to live out authentic community, which they believe is best done with up to twelve people at a time, according to the model Jesus gave while on earth.
Envision actually has received Church status with the IRS because it is operated by a Board that functions as elders and deacons. It is still a missionary effort that requires the help of local churches both financially and in ministry, but because it has a church plant, requires the freedom to make decisions as a Board of elders, and its main purpose is discipleship.
Envision has now developed and launched the Jesus Gathering as an established house church network.  After that time they will be led by multiple elders, though Mitchell would continue to be part of that elder Board after it is launched out on its own. At the same time, Envision desires to reach out to more folks in downtown Bellingham with relational evangelism, prayer and music ministry.  Envision also hosts a spiritual song prayer meeting at Light of the World Prayer Center to encourage music ministry even more.
Please join us as we follow Messiah Jesus into new places for the glory of God!
Envision Mission Community Outreach:
The Jesus Gathering  is now a partner with Envision as a house church network. The mission of the Jesus Gathering is to proclaim the gospel and make disciples of Jesus Christ within Whatcom County, especially those who do not fit in easily with the traditional context of the church.  It has once a month Sunday gathering at Hope in Christ Church on Sundays at 4:30pm.
The Jesus Study, a Bible study. The purpose of this small group is to help people in the downtown culture of Bellingham experience the transformative power of God's written Word.
The Ladies Meeting. The purpose is that women would teach one another to be women of God, keeping their homes, loving their husbands if they are married, and taking care of their children. They study the Word together and encourage women, whether single or married, to serve God faithfully.
The Men's Meeting.  The purpose is that men would be men of God who sacrifice their lives for others, especially women and children according to God's Word.
Street Night, a ministry of Envision that goes into the streets with the Gospel. We host groups that do prayer walks with us downtown and evangelism. We also pray beforehand to see who God wants us to meet and share the Gospel of His love with them. Our goal is summed up in three M's: Meet someone, Meet a need, and Make an observation or testimony afterwards.  Now we are partnering with Rising Hope Ministry, a street ministry led by Jon Ng.
Six Goals:
To start/encourage as many quality prayer/community groups or 7-12 that have authentic, safe and transparent relationships as possible
To pray particularly that we may be filled with the Spirit as the Apostle Paul instructs the church in Ephesians 5
To encourage each other towards love, helping each other in practical ways like taking care of each other's kids, visiting each other in difficulties, mourning with those who mourn, rejoicing with those who rejoice.
To tell as many people about Jesus as we can and demonstrate who He is to those who don't know Him yet in creative ways, such as through music/art; helping the poor to move into quality housing, have basic needs met like food, shelter, and clothing; and by praying for the Lord's intervention in their lives whether through healing, provision, the peace/comfort of Christ, or any need they might have.
To teach people in the downtown culture of Bellingham (that is the homeless, college students and the counter culture who enjoy hanging out downtown) everything Jesus commanded in the four Gospel accounts of the New Testament.
To work with local churches in this effort by blessing them with testimonies, preaching, worship leading, and the opportunity to join us in this unique outreach ministry.
Six Core Values:
Corporate prayer/fellowship in small group settings (this is the core for everything else and must be stated and not just assumed)
The outpouring of the Holy Spirit upon us (we seek God's Face, His very tangible Presence among us and we wait for Him to clothe us with power from on high)
Loving each other and laying down our lives for each other as friends (within the core group/small groups and for/with the flock of which we are called to be shepherds in different ways according to our gifts and callings)
Proclaiming the Gospel of Jesus Christ (the message of the Gospel is defined simply in 1 Corinthians 15:1-5 and affects ALL things; the Person of Jesus Christ is the Gospel we preach, forgiveness of sins, healing, deliverance and shalom)
Making disciples of Jesus Christ within Bellingham's downtown culture (disciples obey all of Jesus commands, are baptized into the triune Name, knowing that Jesus is with them always; our target is the downtown culture of Bellingham)
Mutual blessing between local churches (we need local churches to help support us financially and in practical service because our culture is not easily self-sustaining. We in turn desire to bless local churches with ministry opportunity and equipping their congregants in any way possible.)
Five Year Vision
Envision Mission Church will be a sending church. We will launch the House Church movement to become its own church. But the Envision Mission Board will remain connected, yet separate because it will involve the leadership that sends out and serves these other ministries being launched. Mitchell will remain an elder, but not without the oversight of other elders.  We hope to launch more house churches, ministries, maybe even a coffeehouse again to serve the downtown Bellingham culture in Jesus' Name.
Some Thoughts on Our Philosophy of Ministry
After the Fall of Man, the world built the Tower of Babel to the heavens in order to come together in unity around the power of mankind. The power of man displayed itself in technological progress, a common language, and hard work. God scattered the world by confusing them with many languages because He knew that they will accomplish great progress but would never find true peace and community in that context.
Then He called Abraham out of Ur and led Him to a Promised Land. Abraham trusted God's voice and God began to build His community of peace through that one man. He continued doing this through Isaac, Jacob, Joseph, Moses, Joshua, Gideon, Samuel, David, the Prophets and finally perfectly through Jesus the Messiah. But many children of Abraham rejected this call and went back to the world's way of doing things. Some who were not children of Abraham aligned themselves with God's community, such as Rahab and Ruth. But there was only a remnant. So God scattered the children of Abraham to the nations of the earth.
After Jesus died for the sins of the world and rose again from death, He told his disciples to go to Jerusalem. He ascended to Heaven and from the right hand of God's majesty the Spirit poured out upon the disciples in Jerusalem. Children of Abraham came from all the scattered nations to Jerusalem for the feast of Pentecost, and there God poured out His Spirit along with the proclamation of the good news of Jesus Messiah. In that place He reversed the Tower of Babel so that everyone there could understand the message of Jesus Messiah as one language. He brought men and women together in peace and community by His Spirit, instead of by the power of man. Now anyone, who aligns themselves with that community under Jesus as King, has true peace and authentic community within them.
We live in a very busy, lonely culture. America is a veritable Tower of Babel with great technological progress, a common language, and lots of hours of busy work to that end. The values of the American dream are quickly spreading throughout the globe – through the spread of the English language, internet/computer technology, comforts, consumerism and economic advancement. However, this unity of the power of mankind around building this Tower does not bring peace or true community to people. That can only come through the Holy Spirit of God being poured into the hearts of little groups of disciples who love each other as God has loved them.
As Abraham was a friend of God, we must first be friends with God in Jesus Messiah who is the friend of sinners. Then we can have true friendship with one another. And this Message we are called to spread to the whole world by discipling others to Jesus as He has taught us. The model of Jesus was not to try to reach crowds of people and set up another program or Tower for everyone to gather around. His model was to spend time with twelve men and live life with them, to teach them in that context, and then commission them to go and do the same.